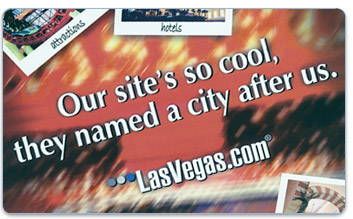 Calls to Action
I love words, I love pictures, and I love the emotions they can elicit. I love creating the perfect message to speak to the audience I'm trying to reach—to convince, enlighten and pursuade.
If I can do all that with a little humor thrown in, all the better.
Among my advertising exploits, I created an image campaign for film and television writers used by the Writers Guild of America for nearly a decade.
At LasVegas.com, I created taglines and marketing campaigns for a variety of companies and shows on the Las Vegas Strip.
This page contains a sampling of my favorite ads.

Look, Another Ad for Harrahs.com


An ad for Total Rewards magazine


Free apps ad for Total Rewards magazine