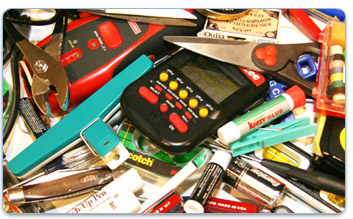 Everything Else
I've reserved this part of my site for everything else, the bits and pieces of my life and hobbies and passions and accomplishments that didn't fit neatly into another section of this site.
Looking over this page, I'm struck by how much of my life doesn't fall into a broad category. I thought my life was neater.
Lately, I've been working on what is sure to become the best Las Vegas Web site ever, VitalVegas.com. Stop by, why don't you?
This section contains information about things I'm into, including my hobbies and accomplishments.
And yes, for the record, that's my actual junk drawer. Thanks for asking.
Let's do some links, shall we?

I'm Featured in the Popular "Mimefreak" Vids


I'm a Sleep Authority


Profile by My College Paper


Book Signings at Barnes & Noble


My Billboard Controversy


Sponsor a Child: I Do


A Little Something From the Mayor


"Citizen of Distinction" Awards Coverage


My Author Page at Running Press


A Puffier Me at BeerCanBob.com


Dribbleglass.com Info. at Alexa.com


Alphabet Club


Quoted in the Denver Post


A News Release for "Twisted Billboards"


Kudos in Netlife Magazine


My Only Film Credit at IMDB.com


Call Me Dr. Drywall


My Work Published in "The Beachcomber"


I Did the Photos/Design for This Holiday Card


Take a Look Under "S" and Find My Name


This Whole Modesty Thing is Overrated


Dribbleglass.com Mention on NPR's Car Talk


AnimalRightsStand.com Textbook Mention


My Billboards on "The Daily Buzz"
Videos (Writing, Editing, Videography)

Breakthrough Photography Tips


Spread the Word Nevada School Adoption


Las Vegas Valley Book Festival


Spread the Word Nevada PSA (Writing)


Kids to Kids Fifth Birthday Video (Writing)


Dirk Arthur and His White Tiger


IcePan Ice Cream


World Premiere of "The Mechanic"


Louie Anderson at Pink's


Chumlee from "Pawn Stars"


Wild 52 Table Game at Flamingo