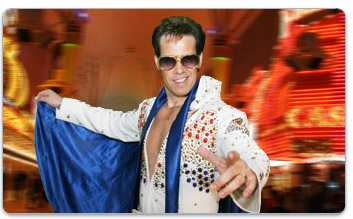 Las Vegas Comes Alive
At LasVegas.com, I had the unique opportunity to write, direct and produce a series of video spots promoting a variety of Las Vegas shows and travel packages.
These videos were presented using a unique technology called Bluestream. This video delivery system "masked" the neutral-colored background, turning it transparent, and made it appear as though the performers were walking out onto users' computer screens.
While I can't reproduce the masking effect here, I can still show a few samples of the videos for your edification.
You can see a sample of one of my videos, with masking effect, here.